(Dedicated to the memory of Avraham Bar Rashi)
Avraham Bar Rashi (Allan Gittler)
Musical Pioneer, Inventor, Founding Father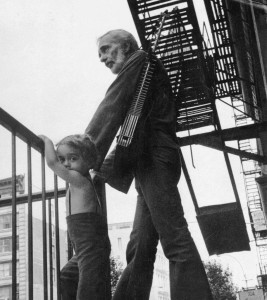 Avraham Bar Rashi, formerly Allan Gittler, was born in Cleveland Ohio on September 16th, 1928. His parents were Jews, his father from Germany and his mother from Hungary. While in his infancy, the Gittler family moved to New York City and he was raised on New York's lower east side, where his mother worked as a seamstress. Allan began playing guitar at age 16 and dropped out of high school shortly thereafter.
Mainly self taught, he mastered musical theory, composition and solfège (sight reading). He played mainly classical guitar but also mastered several other instruments and joined the New York City Musician's Union. By the late 1940's and 50's he was employed as a contrabassist in several swing and Latin dance bands in Manhattan and the Catskill resort area.  Once, when hired as a guitarist for a big band, he brought an electric guitar to the gig – a rarity at the time – and was dismissed for playing a "lady's guitar", as the bandleader put it!
Among his early influences were guitarist Remo Palmier, with whom he had a long association. "His chord changes were inspirational to the American standard idiom", Gittler said of Palmier in an interview. Drumming legend Elvin Jones also was an inspiration. In 1965 they recorded an 18 minute improvisational duet, with Gittler on classical guitar and Jones on drums and percussion. Another track was recorded some weeks later but, sadly, this track was later destroyed in a fire at the studio. During recording the players were isolated in separate booths but when they tried performing together live, the microphonic amplification of the classic guitar was no match in volume for Elvin's drums. Gittler found that the tone of his classical guitar was compromised when played through the amplifiers of his time, so he renewed his interested in electric guitars and began to design his own. His first models were hand made of wood. One which he played for some years was of ebony. Each had a minimalist design of not much more than the neck of the guitar. 
Gittler worked as a top film editor in New York for 15 years. During this period he was awarded patents for a photographic printer, a motion picture reel (the "Master Reel") and a motion picture container. He also made a short movie during this time entitled "New York, New York, New York", comprised of 700 stills shot with a Minox camera and scored with the afformentioned recording of he and Elvin Jones. Gittler eventually left the editing trade to script, score, direct and edit his own feature movie, "Parachute to Paradise". Gil Evans arranged Gittler's music for the movie and it was performed by the Gil Evans Orchestra. Neither of these films became big commercial successes but both are legendary in New York's art movie scene.
During his 20 years in Israel he performed and recorded, often with his son Yonatan on percussion and drums. He also designed and built several more electric guitars, which have become highly praised collectables and noteworthy in their own right.
Yonatan Bar Rashi
Professional Musician & Managing Partner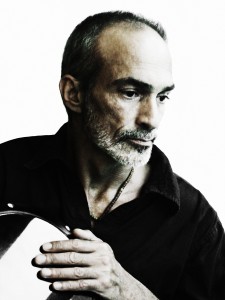 Yonatan was born and raised in NYC and began knocking on things from early youth. His sister got him his first pair of "congas" when he was 10 years old – two pickle barrels from Chinatown with goatskin heads on rims fastened by C clamps. His first public performances were at big parties with African groups (including the drummers for Odetta) during the 1960's scene around NYC and Woodstock.
"I was tiny. My mom said I could barely reach their drums. But I was already playing awhile and I was the only kid they allowed to sit in."
His first "formal" conga studies were with a Latin group of drummers called "Lexington Avenue", based in a storefront on 117th street and Lexington.
"They were very kind to me. They didn't laugh at my pickle barrel congas."
Yonatan attended NYC's High School of the Performing Arts and performed with several groups. He recalls one odd practice routine that helped to shape him as a musician:
"My friends and I would stand between subway cars and start singing a tune while the train was still in the station… the train started and we couldn't hear ourselves 'til we got to the next station… that's when we'd find out if our timing and tuning were tight."
In 1976 Yonatan and high school pals Dave Ortiz and David Ramirez were "discovered" while playing in Central Park by members of "The Tokens" who sang "The Lion Sleeps Tonight". That summer they recorded an album (Skateboardin' USA), appeared on nationwide TV and did a US tour.
In 1982 he began a 3 year stint in the US Peace Corps and was assigned to the Eastern Caribbean, which led to long musical associations with Caribbean saxophonist and noted Jazz composer Luther Francois (albums with Bob Marley, Peter Tosh, Melba Liston & others), pianist Emerson Nurse, and several others. He played with a wide range of groups in many genres including Caribbean jazz fusion, Calypso, Cadanse, Zouk, Soca, Reggae and folkloric forms.
In 1986 Yonatan made a brief return to NYC and then moved to Israel shortly thereafter to be with family. He has lived and performed both in Israel and abroad in the years following. Among many others, he has performed and/or recorded with: Avraham Bar Rashi, Estas Tonne, "Baladi", Avishai Cohen, Yair Dallal, Eyal Sela, Shuli Natan, Jonathan Miller, Yehuda Glantz and David Adda.
In Israel he began playing the darbuka and applies the double hand roll to it – perhaps the first and only darbuka player to do so. He also applies this technique to cajon, djembe, other drums, and also plays hand pans and other percussion instruments. His videos can be found on Youtube and his passion for finger technique and Middle Eastern Rhythmic modes is captivating.
Russ Rubman
CEO & Apostle of the Minimalist Revolution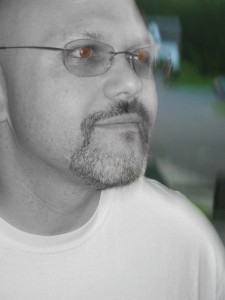 Russ Rubman is a guitarist, bass player, singer and a father of three, who works and resides in New York. He began his professional career working for Walt Disney's painted background department in Glendale, California. His efforts on "Little Mermaid and "Rescuers Down Under" paid the bills, while night-time gigs up and down the sunset strip fed his passion for music.
After a nearly fatal car accident, Russ returned home to his native Long Island to heal and work for his father's aircraft materials company. There, he learned just enough metallurgy and engineering to be considered dangerous to himself and he took up a specialization in weaponry systems for various Government Lethality programs. After several years of concentrated study, Russ had built up enough capital and momentum to start his own company…so he left his job. He announced this revelation on the night of his first son's birth (hoping to minimize the pain of childbirth by comparison) to his wife.
Nearly 20 years later, Alloys International, Inc., is a very successful defense subcontractor, specializing in Titanium and ballistic materials with offices in New York, California and Paris. Stemming from his love of both guitar building and industrial design, Russ has finally found the perfect marriage of form and function in the new Gittler Guitar.
"We have many new and innovative
musical instruments just approaching the horizon line and I am excited to share them with the world."
Michael Gomez
Marketing Expert, Filmmaker, Drummer & University Professor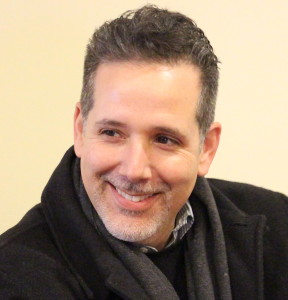 Michael started his marketing career on Madison Avenue working in advertising and has developed integrated marketing programs for package goods and financial services on a global level. He is a musician and has played the drums since he was 8 years old. Working as professional drummer he was recorded on a local artist compilation and still enjoys playing, but spends most of his time teaching marketing and filmmaking at Marist University. 
"Marketing any product or service requires a dedication and passion for the message. When I learned about the Gittler Instruments, I was instantly convinced that these innovative instruments can change the paradigm of how we see traditional guitars. With the benefits of titanium and the elimination and reduction of the instrument to its core essence, it represents a design and form that needs to be heard on a large scale."
"We have just begun to scratch the surface with these innovative instruments-join us on the journey"."
Colin Joye
Innovator and Engineer of the Musical Form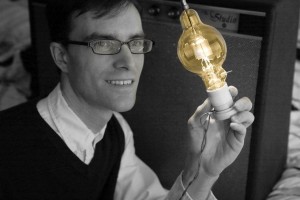 Dr. Colin D. Joye received his Master's and Ph.D. degrees in Electrical Engineering from Massachusetts Institute of Technology (MIT).  He has extensive backgrounds in vacuum electronics, electromagnetism, microfabrication and materials.  He enjoys improvisational jazz piano and guitar, and was classically trained on organ for seven years.  His favorite side-hobbies include building vacuum tube-based guitar and audio equipment, and inventing electronic devices. 
In 1995, he began teaching himself jazz piano and improvisation.  He picked up electric guitar shortly after that and built, repaired, and tweaked numerous electric guitar amplifiers, mostly based on vacuum tubes.  He also built more than a half-dozen subwoofers for car audio enthusiasts and did custom installations.  One of his favorite car audio jobs was adding 1/4″ jacks in the console of his car that allowed guitars and basses to be plugged directly into the car audio system to create an instant portable amplifier for long car trips and tailgate parties. 
Having been homeschooled throughout his school years, he was fascinated by electronics and spent countless hours in the basement tinkering; as a result, he found the first two years in college in Electrical Engineering at Villanova University quite effortless.  His pioneering senior project was "The Solid-State Ion Tweeter," a high-frequency omnidirectional tweeter based on a high-voltage electrical corona discharge using transistors.  He continues to work on such projects, having created some impressive plasma speakers by leveraging his backgrounds in plasma theory and radio frequency electronics.